The NASA Reno Chapter presents the
An aerial view of
the entire course
Virginia City Hillclimb
June 3rd and 4th, 2000
Come run the Virginia City Hillclimb and enjoy the twisting 4.5 mile hill for 2 days, with as many runs up the hill as time allows.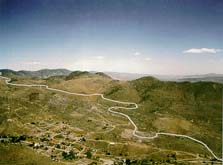 A portion of SR 341 is shown from the west
.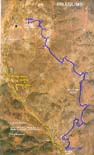 Virginia City is 23 miles southeast of Reno and 14 miles northeast of Carson City.

The hillclimb is an automotive competition in which a single car is released at approximately one-minute intervals to negotiate a paved road or highway with an elevation change. This hillclimb takes place on Nevada State Route 341 and is 4.5 miles. The route has 21 turns and three straight-a-ways. The starting line begins at an elevation of 4,800 feet and finishes at 6,200 feet at the South end of Virginia City. Speeds have been recorded in excess of 130 MPH. The course record is 3:20.909.

This event will consist of four separate groups. Each group will have approximately 15 drivers with 8-10 runs per driver. Each group will run for 11/2 to 2 hours both days. Every run will be timed and recorded. Times will be given to each driver after every run when they return to grid. The driver that completes the course in the least amount of time in their class wins.
To contact the event chairman, e mail him at VCHARENO@aol.com