Here's a few photos of Bill Rose working the #40 car and an account of our adventures at Ventura Raceway on September 4th .
Here we have Rodney Argo in the #19 car trying the low line.......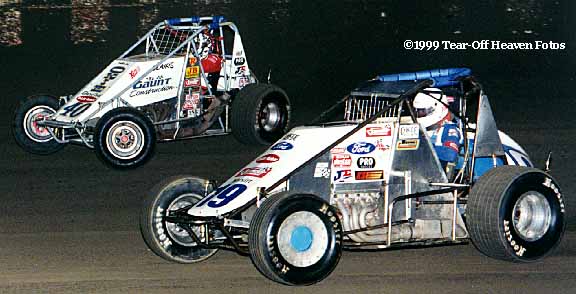 In this instance Troy Cline tries to make a pass under Bill..... Troy finally got past Bill to put him into 4th place in the main, which isn't bad considering he started 12th and ran the entire main event with a missing left front torsion arm.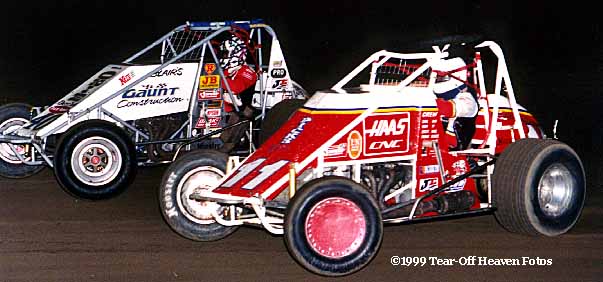 Tony Jones is maintaining the high groove in the #48 car and eventually wins the main event, while Bill demonstrates what happens to the left front wheel when there's a torsion arm missing.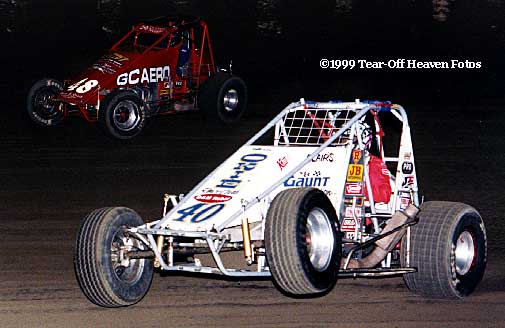 Here's my firsthand account of our experiences.....
Between work, building motors, and moving in to a new house I haven't had a plethora of time to devote to racing. But my new neighbor Rickie Gaunt (currently 6th in SCRA points driving Jack Gardner's #96 car) asked me if I'd help him put together his old car and wrench on it out at Ventura this past weekend for Indiana native Bill Rose (a USAC sprint car regular) to come out and run. Sure why not... beats painting the house.....
We lit the motor off and tuned it up last Friday evening, which probably made a rather indelible impression on my new neighbors since I've only been in this house for less than 2 weeks. The motor seemed fine for something that's been just sitting there since the World of Outlaws race in February. The car sure looked like crap though..... since it was a one race deal we didn't bother freshening up the paint after competing all last year with it.
To make a rather long story short, none of us have a trailer that we were able to use to go to the races with so Rickie borrowed one of our buddies tandem axle open trailer. We threw all the tools and what few spare parts we
had into the back of the truck and headed out for the 70 mile drive to Ventura
Saturday afternoon. It was a real ragtag looking team... kind of a "Fred Sanford goes to the racetrack" sort of thing. We didn't have room for the quad so we had to push the car all over the place by hand. The exercise was good for
me and it still beat painting my house.
Bill met us at the track and got suited up and ready for hot laps. At this time we also bought and mounted a new right rear tire to use for the night is our current one was ready for retirement (no pun intended). After hot laps Bill
came in and stated that the car didn't have any brakes. Rickie had put in a new master cylinder during the week so we bled the brakes again and hoped that would be all that was needed. Bill went out for qualifying and turned 14th quick out of 37 cars for the night. He still didn't have any brakes. Upon closer inspection we came to the conclusion that the new master cylinder was a likely suspect of all of our problems. We quickly borrowed another master cylinder from Mike Kirby and installed it and the brake problem went away for good.
Bill started on the 2nd row outside of the 2nd heat race. When the green flag dropped he promptly drove right around the car in front of him and took the lead..... Bill never looked back and won the heat race easily, ahead of Rickie Gaunt, the guy who loaned him the car.....
As we were getting ready for the 40 lap main event we noticed a fuel leak between the shutoff valve and the fuel line feeding the injector pump. We borrowed another -12 fuel line from another team and installed that, but it didn't seem to make the leak go away completely. It wasn't a bad leak, just enough to drip and leave a little puddle when just sitting there. When the motor is running or when the fuel get's low enough in the tank it goes away. After making a few minor chassis adjustments and filling the fuel cell to the top we were ready for the main event. Unfortunately, with the fuel cell full the leak re-appeared. In an effort to slow the leak until we could get the motor running we tie-wrapped a rag around the suspect fitting and valve in order to absorb any moisture and hopefully get out on the track.
Unfortunately, since it was Labor day weekend and the race was for 40 laps there was more than the usual pomp and circumstance on the fronttraightaway before we were able to get the show started. This allowed the
rag to fill with fuel faster than it could evaporate and start to drip down to the dirt below. This caught the attention Ron Shuman who came by and gave us the once over. One of the guys who was helping us told him it was probably just residual fuel that was spilled as when we filled the tank they spilled fuel all over the place (a true story).
As the dirge on the front straight continued, so did our fuel leak. This time Ron came by and told us we had a bad fuel leak and we had to fix it. At this point I cut the tie wrap and rag off the fitting and took a couple of wrenches to the fitting. I pulled these wrenches so hard that I was wither going to break the fitting or bring back a certain part of my male anatomy in my pocket. well, the fitting didn't break so I limped back to the fence as they were finally firing the cars off. Ron said he'd keep an eye on the car and check for a leak on any red flags, if it was still leaking we were out of there.....
Bill started on the outside of the 6th row. Space was at a premium at the drop of the green flag with 20 cars on that 1/5th mile track. Somewhere after the first lap was completed they threw the yellow flag for debris on the
track. An official held up a torsion arm to see if anybody wanted to claim it. I recognized it right off the bat as our left front arm, no one else uses the billet "S" shaped arm like that. Bill was still rolling and aware of his situation, but if we had to lose a torsion arm, the left front is one we could probably live without. We ran back to the pit to borrow another arm so if we got a red flag we could put one on. But from there on in it was quite an exciting race as Bill promptly started to pick off cars. We set the car up with some extra left rear weight so he could run the inside of the track. This really worked to our advantage as Bill masterfully picked off cars one right after the other. By lap 30 he was in 3rd place (from 12th). With just a few laps to go he raced side by side with Tony Jones who eventually won out and put Bill back to 4th. Tony was about the only car that passed us all night. when they threw the checkered we were credited with 4th place and promptly ran out of fuel.
We never struggled with chassis setup, but had to change a mastercylinder and tap dance around a menacing fuel leak. but still, with everybody else's enclosed haulers and nifty paint jobs we managed to kick ass with experience and a certain amount of luck. It wasn't pretty, but I'll take ugly and fast over pretty and last any day.